First day out fishing for 2020 season.
A training day in the boat, new GPS worked great, nice to have side scanning, everything in the boat worked correctly. We were also planning to test a new propeller.
We headed to Lake of the Woods, Buffalo bay as we only had Manitoba licenses and not all of Ontario seasons have opened yet, plus it is easier to access the lake at Buffalo bay than in the Kenora region at this time. Apparently the people in some areas do not like MB license plates in the region during the pandemic and they are still restricting un-needed travel.
After the two hour drive we launched and hit the water at about 10 AM, idling out of the Buffalo Bay Marina, (Nice complex but I am always nervous in new waters when the boat drafts over three feet). We motored north towards Birch Point Provincial Park to check the boat launch there, it is a definite no for me to use, no dock, which makes it difficult to get into the boat after launch. I was also testing the new prop (19 inch pitch) and it didn't seem to be working correctly, I could get on plane but top speed was 32 MPH with only 4900 rpm, top rpm should be close to 6100. Tried trimming the motor but this had minimal change. So we decided to work with it the way it was for the day, neither of us was going to volunteer to get in water and change prop.
We got to the spot we wanted to start fishing and rigged up with our favorite, jigs with salted minnows. Eric hooked and boated the first fish, a very nice 5-6 lb Walleye, after that it was pretty steady for the two of us, mid day slowed for a while but did pickup for us just before we decided to stop.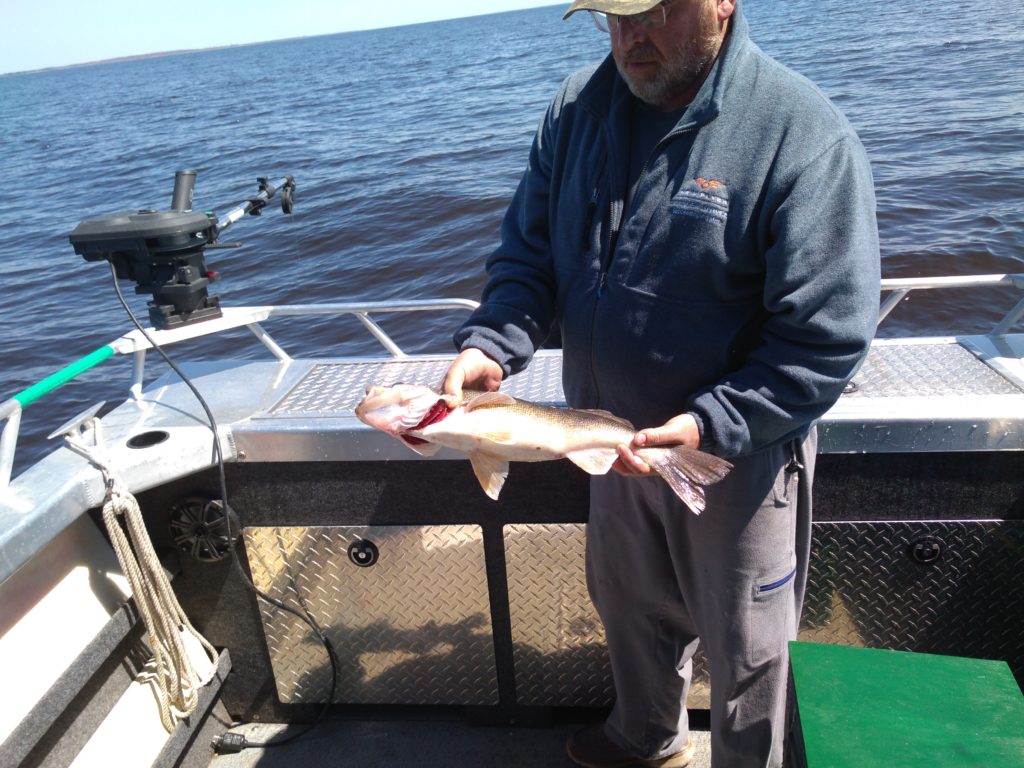 It was when we went to fill the live well with water that it hit me, I put the plug in the live well drain and that was when I had a flash, "I had not put the drain plug in the transom extension, allowing it to fill with water". Hence the poor performance. FYI, the transom extension holds about 30 gallons of water, there is no way the boat will perform properly with that much weight hanging off the back, I might as well have two skiers behind me!
Back to fishing, there was a fair number of other boats in the same area, we were restricted to just Buffalo bay as any further east you enter USA waters and must have a Minnesota fishing license, you could cross the US waters into Ontario if you wanted, this day we did not. you can see in the pictures how calm the water was that day, hard to believe this was LOTW in the southern portion.
We hooked and boated many more fish, we weighed the largest we kept and it was 32 oz. (2 Lbs). We released anything over that size, any large fish we caught all seemed to be male and it was clear the spawn was still on, they were leaking all over us and the boat. Of the released large fish Eric did have the biggest, I had two others, a little smaller but both over 4 lbs.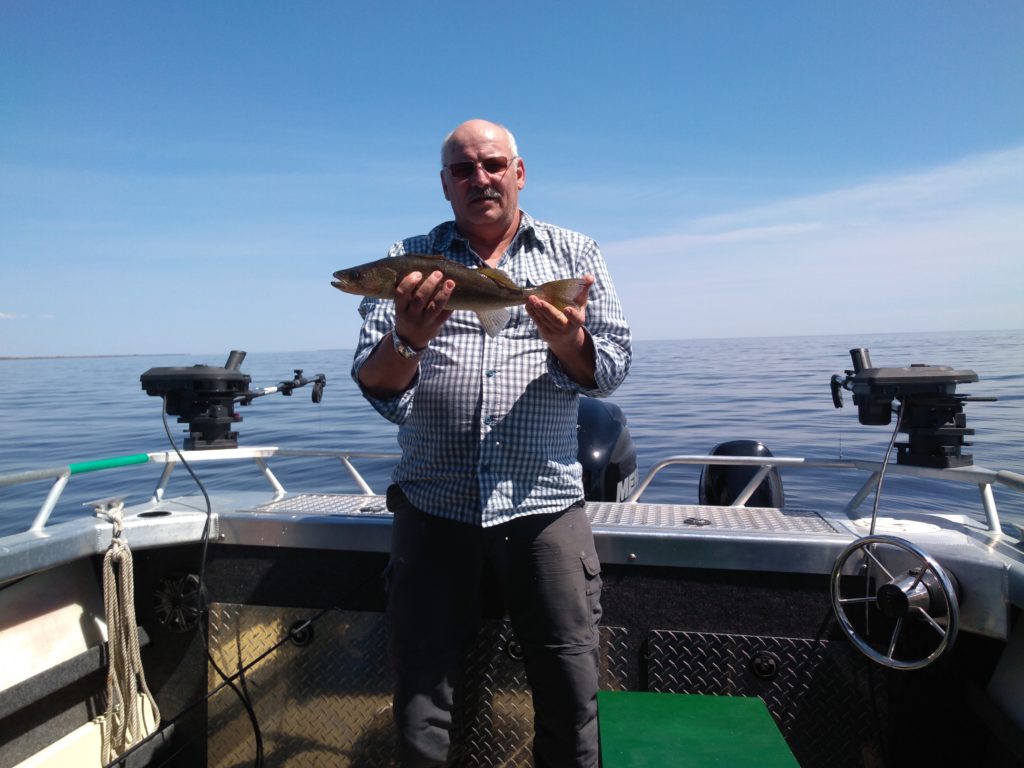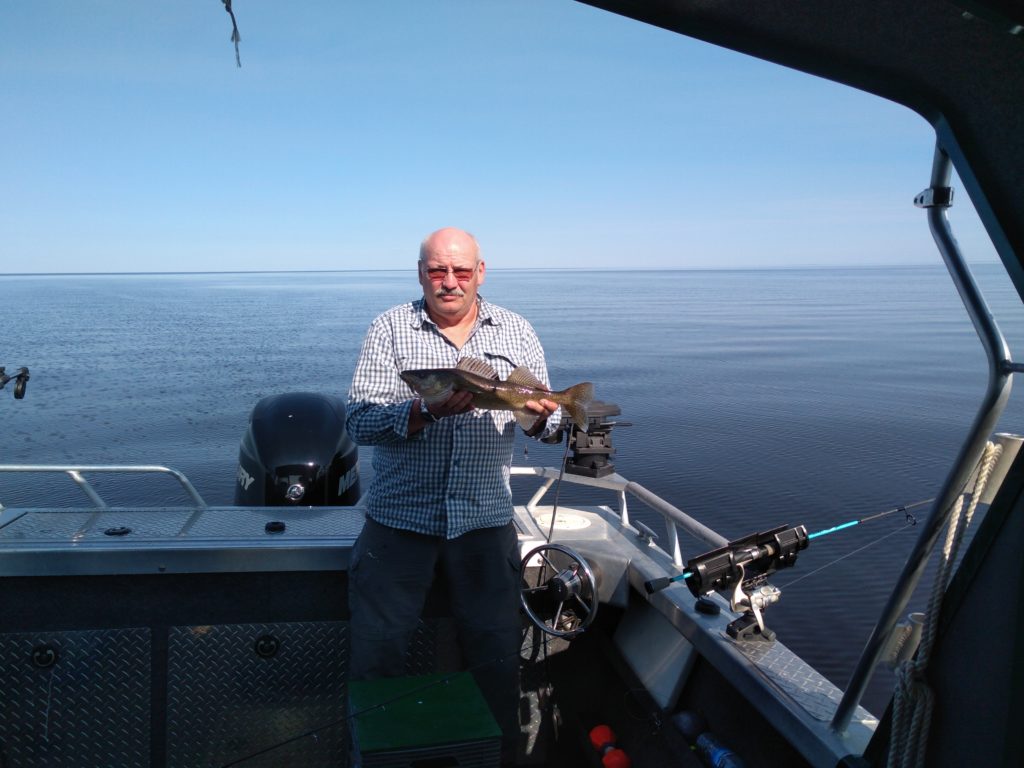 By the end of the day we had boated close to 30 walleye, all without moving more than 300 yds from the original spot, and all caught in basically the same lake bottom structure situation, (we were watching everyone else and they didn't seem to boat many). We will return there again, soon I hope but there are other waters that need my attention first!
We are not sure how many we actually hooked, many were just shaken off at the side of the boat, others were just not well hooked and let go at the boat, the largest fish of the day (according to Eric, he saw it at the boat), hooked by me, but spit the hook.
All in all a very good day, weather was great, it is not very often LOTW is like glass. Yes, I know, I need to get better at measuring, weighing and taking pictures!!!
Happy fishing.